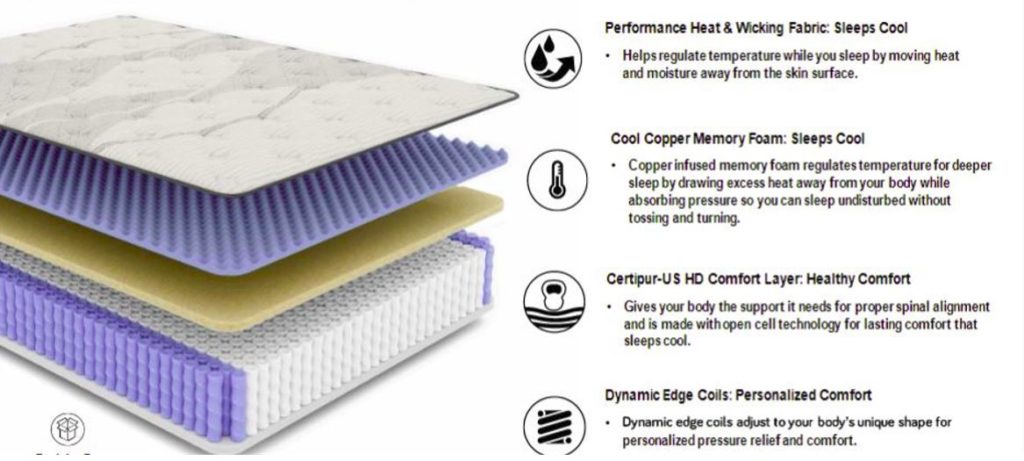 TW (DMBRME-1110) / TWXL (DMBRME-1120)
Plush
There is a lot of research being done on the benefits of copper infused foam in mattresses. Here are some of the properties the research is looking at.
Performance Heat & Wicking Fabric: Sleeps Cool•Helps regulate temperature while you sleep by moving heat and moisture away from the skin surface. Cool Copper Memory Foam: Sleeps Cool•Copper infused memory foam regulates temperature for deeper sleep by drawing excess heat away from your body while absorbing pressure so you can sleep undisturbed without tossing and turning. Certipur-US HD Comfort Layer: Healthy Comfort•Gives your body the support it needs for proper spinal alignment and is made with open cell technology for lasting comfort that sleeps cool. Dynamic Edge Coils: Personalized Comfort Dynamic edge coils for more edge support, personalized pressure relief and comfort.
Benefits of copper:

Contains antimicrobial and antibacterial properties
Copper ions prevent the growth of unhealthy pathogens and bacteria, such as E-coli, fungi, and more. By inhibiting these microbes, it prevents the production of bad odors and bacteria stains. A mattress made of copper-infused fabric might likely last longer than regular sleep products because copper acts as a natural bacterial and microbial inhibitor.
Acts as an anti-inflammatory agent
Copper can help ease inflammation and arthritis due to its properties of forming nerves, tissues, and muscles in the body. It helps relieve swollen muscles by activating the copper within your body and work together to support your system.
Speeds up recovery and build-up
Copper has properties that allow a faster healing process for muscles, bones, and tissue. Coupled with a good night's sleep, it can speed up recovery for your body to be up and moving the next day.
Has high thermal conductivity
Sleeping hot can disrupt a good night's rest. Breathing and night sweats can be a huge problem if left unsolved. If copper particles are positioned within the memory foam cell structure, it serves as a conduit that heat can be removed through conduction resulting in a cooling effect.
Improves blood flow
The ions improve blood flow and circulation by strengthening iron levels. It prevents clotting and reduces the buildup of lactic acid. Copper help transports oxygen and nutrients to bodily organs, making a person, grow, and glow healthily.
Boosts anti-aging benefits
Copper is a key nutrient inh0 improving collagen and elastin. These protein blocs are responsible for making the skin more elastic and firm, making you look more youthful overall. What's more, the ions help repair skin damage from the sun and recover from wounds.
Supports spine for better sleep
Copper mattresses are made with memory foam to conform to your body's shape and reduce pressure points. This helps align your spine for a better sleeping position as it prevents shoulder and lower back pain. Our hybrid mattresses with cool gel-infused latex have shown to relieve people from joint pain and sleeping hot.
Isolates motion transfer
Do you find yourself tossing and turning noisily at night? The mattress integrates zero motion when you toss and turn. Copper mattresses often have isolate movement features that may disturb you and your partner during sleep.
Compliments your sleeping position
Are you a back sleeper or a side sleeper? No matter what sleeping position you have, copper memory foam mattresses with cool-infused latex bring the best support your body needs. The memory foam supports your curves to reduce body pain, while the gel-infused latex brings enough firmness that won't sink your body further to the mattress and let it overheat while sleeping.
Imparts deep rejuvenating sleep
Do you know what's best with a copper mattress? It imparts deep rejuvenating sleep that wakes you up all good and refreshed in the morning. The ions incite better circulation, speedy recovery, and antibacterial properties that ensure an undisturbed sleep.